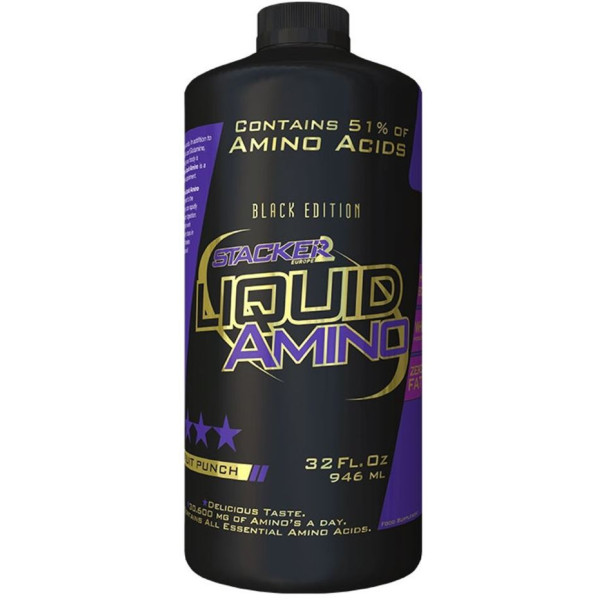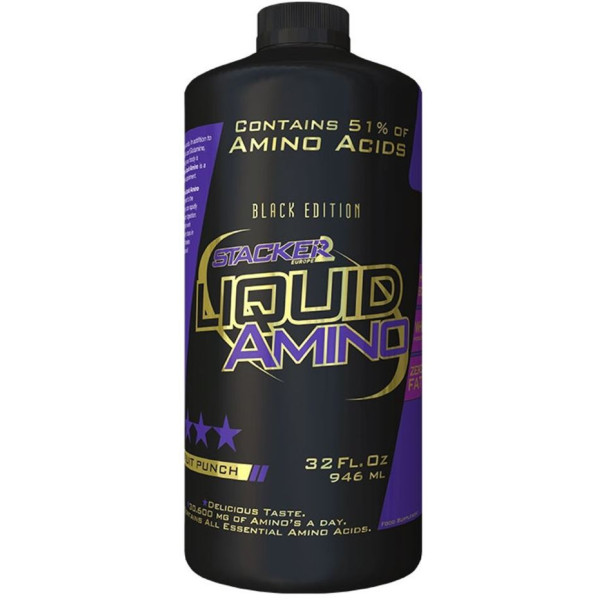 Liquid Amino 946 ml
If you play sports, you need the right amino acids. Stacker2 liquid amino acids have a balanced composition.
Stacker2 Liquid Amino is an essential amino acid supplement in liquid form, designed to accelerate and facilitate assimilation. It is produced by the American company Stacker2, a renowned company in the field of sports supplements.
Amino acids are vital elements for the body, as they are involved in many metabolic processes. Athletes have an increased need for amino acids due to intensive training sessions which can reduce their blood levels and increase their requirements.
Stacker2 Liquid Amino is a liquid essential amino acid supplement designed for athletes looking to stimulate muscle growth. Amino acids are key components of muscle building, and it is often difficult to meet daily requirements through diet alone.
Stacker Liquid Amino supplement contains a high concentration of essential amino acids, such as BCAAs, glutamine and other amino acids, which our body cannot produce independently. BCAAs consist of 3 essential amino acids (valine, leucine and isoleucine) which are important for athletes. They are responsible for fundamental functions such as building new cells and tissues, protecting normal physiological activities and supplying the body with "fuel" to ensure proper muscle nutrition. Glutamine is important after training because it helps the body recover faster and reabsorb lactic acid, also preventing catabolism by improving the maintenance of muscle mass. The exclusive formula of Stacker2 Liquid Amino contains amino acids obtained from isolated and hydrolyzed proteins, which allows a greater and faster absorption of protein peptides.
The liquid version of Stacker2 Liquid Amino is also more easily assimilated than the capsule formula, which stimulates protein synthesis and recovery. The benefits of Stacker2 Liquid Amino include rapid absorption, high quality ingredients obtained from isolated and hydrolyzed proteins, free amino acids, and a convenient liquid form.
Recommended Use:
On training days: take 40 ml of Liquid Amino (about 4 tablespoons) 30 minutes before training. On rest days: take 20 ml of Liquid Amino (about 2 tablespoons) 15 minutes before breakfast and 20 ml (about 2 tablespoons) shortly before bedtime.
Ingredients
Proline, Glycine, Glutamine, Alanine, Aspartic acid, Lysine, Leucine, Threonine, Serine, Arginine, Cystine, Isoleucine, Valine, Phenylalanine, Methionine, Tryptophan, Histidine, Threonine, Tyrosine.
Other ingredients
Water, HD protein blend (hydrolyzed collagen protein, whey protein hydrolysate [derived from]), fructose, vitamin B6 (3.18mg pyridoxine, IR 271%), antioxidants (citric acid, ascorbic acid), sweeteners 92mg (cyclamate, saccharin, acesulfame-k).
Warnings
This product is a dietary supplement. Dietary supplements should not be used as a substitute for a varied diet. This product should be used in conjunction with a sensible diet and exercise program for best results. Please store in a cool, dry place and keep out of reach of children. This product is not intended for persons under the age of 18. This product is not intended to diagnose, treat, cure or prevent any disease. Never exceed the recommended serving size.
Specific references
ean13

8717472070456
3 other products in the same category: