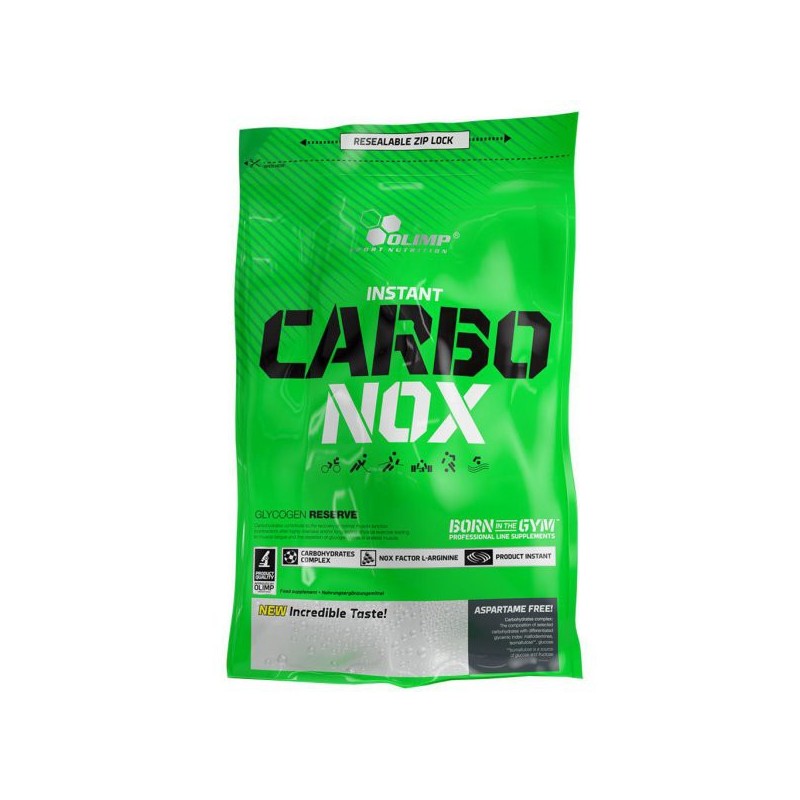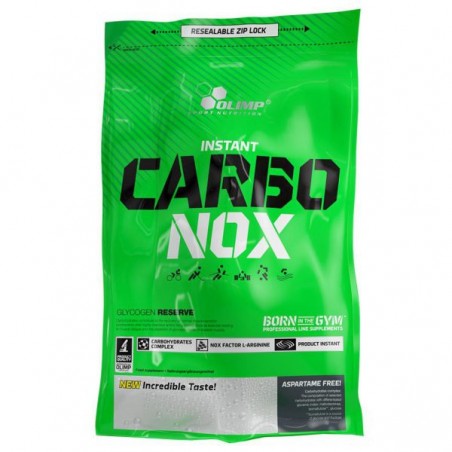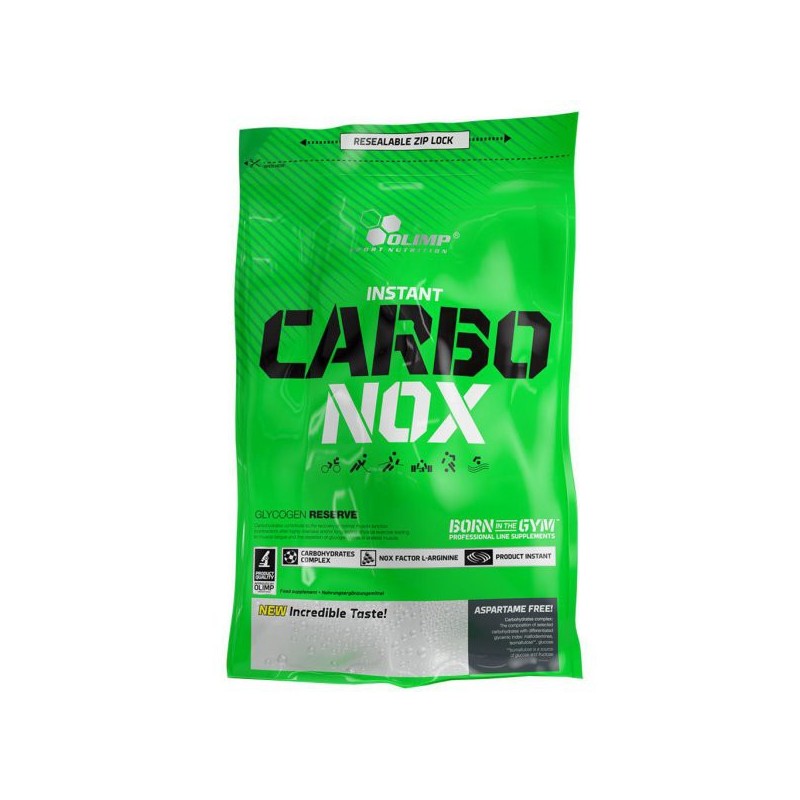 Carbonox
CarboNox of Olimp Nutrition provides a contribution in energy for the training. Complement very rich in carbohydrates. Stabilizes the rate of carbohydrates in the blood.
FILL UP ON ENERGY BEFORE EXERCISE!
Carbonox by Olimp Sport Nutrition is composed of carbohydrate molecules (95%) of different sizes: maltodextrin, active glucose and isomaltulose**, enriched with a complex of minerals, vitamins and L-arginine.
Carbo Nox allows the creation of an isotonic drink to be drunk before the effort which will have for effect to stabilize the rate of carbohydrate in blood during two hours. Two hours of overflowing energy!
Carbohydrates contribute to the recovery of a normal muscular function (contraction) after a very intense and/or prolonged physical effort causing muscular fatigue and a decrease of glycogen reserves in the skeletal muscles. The very rapidly assimilated carbohydrates contained in Carbo Nox will provide you with immediate energy.
Carbo Nox also contains the amino acid L-Arginine which will increase muscle congestion during your workout.
Enriched with 12 vitamins for overall health, Carbonox will revolutionize your workout!
Carbo Nox can be used before/during/after your workout.
STRENGTHS OF CARBO NOX BY OLIMP SPORT NUTRITION
Provides energy for your training sessions
Concentrated carbohydrates
Supports intense muscular effort
Enriched with vitamins
Carbo Nox is intended for adults, amateur and professional athletes, who are exposed to intense and long-lasting physical effort and who want an instant energy boost.
Carbo Nox also allows you to fill your glycogen reserves after the effort for a better muscular recovery.
NUTRITIONAL INFORMATION
Per portion (50 g + 100 ml water)

Per 2 portions (per 100 g)

Per 4 portions (per 200 g)

Energy
816 kJ / 192 kcal
1632 kJ / 384 kcal
3264 kJ / 760 kcal
Fat
of which saturated fatty acids
0 g
0 g
0 g
0 g
0 g
0 g
Carbohydrates
of which sugars
47.5 g
12.5 g
95 g
25 g
190 g
50 g
Dietary fiber
0 g
0 g
0 g
Protein
0,5 g
1 g
2 g
Salt
0,03 g
0,05 g
1 g
L-arginine HCI
500 mg
1000 mg
2000 mg
Vitamins
Vit. C
32 mg
16 mg (20%*)
Niacin
6.4 mg
3.2 mg (20%*)
Vit. E
4.8 mg
2.4 mg (20%*)
Pantothenic acid
2.4 mg
1.2 mg (20%*)
Vit. B6
0.6 mg
0.3 mg (20%*)
Vit. B2
0.6 mg
0,3 mg (20%*)
Vit. B1
0.4 mg
0,2 mg (20%*)
Biotin
20 µg
10 µg (20%*)
Vit. A
320 µg
160 µg (20%*)
Folate
80 µg
40 µg (20%*)
Vit. D
2 µg
1 µg (20%*)
Vit. B12
1 µg
0.5 µg (20%*)
Minerals
Calcium
175 mg
87,5 mg (11%*)
Magnesium
80 mg
40 mg (11%*)
Iron
12 mg
6 mg (43%*)
Manganese
2 mg
1 mg (50%*)
Iodine
75 µg
37.5 µg (25%*)
Chromium
75 µg
37.5 µg (94%*)
Molybdenum
7.5 µg
3.7 µg (7.5%*)
Selenium
7.5 µg
3.7 µg (6.8%*)
** Isomaltulose is a source of glucose and fructose.
* % RDA - Recommended Daily Allowance
° recommended by Olimp. To be adjusted according to preference, dissolve in 100-200 ml of water.
Ingredients: 95% carbohydrate blend (maltodextrins, glucose, isomaltulose**), 1% L-arginine hydrochloride, acidity regulators - malic acid, citric acid; 1% minerals (calcium salt of orthophosphoric acid, calcium carbonate, magnesium carbonate, ferrous fumarate, manganese sulfate, potassium iodide, chromium (III) chloride, sodium molybdate, sodium selenite), flavors, 0.1% vitamins (L-ascorbic acid - vit. C, DL-alpha-tocopherol acetate - vit. E , nicotinamide - niacin, D-biotin, retinol acetate - vit. A, D-calcium pantothenate - pantothenic acid, pyridoxine hydrochloride - vit. B6, cholecalciferol - vit. D, pteroylmonoglutamic acid - folate, thiamine mononitrate - vit. B1, riboflavin - vit. B2, cyanocobalamin - vit. B12), sweeteners - acesulfame K, sucralose, cyclamates; colors: beta-carotene, carmine, riboflavin (for orange taste), carmine (for strawberry, grapefruit, cherry taste), riboflavin (for lemon taste).
**Isomaltulose is a source of glucose and fructose.
HOW TO USE CARBONOX
Take 2 to 4 servings per day, depending on frequency and intensity of training and body weight. Add 1 portion (50 g = 1 scoop) to 100 ml of water and drink about 30 minutes before or just after exercise. Not suitable for diabetics. Keep out of reach of children. A varied and balanced diet and a healthy lifestyle are recommended.
Specific references
ean13

5901330038372
2 other products in the same category: